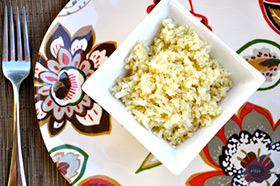 11/18/2023 by Troy Huggett, M.S. 0 Comments
Grain-Free Rice
Just because you're giving your body a break from grains this week doesn't mean your dinner will be rice-less. Fresh, organic cauliflower makes the perfect base for grain-free rice. Serve with a side of lean meat and a fresh garden salad for a low carb, real food meal. Servings: 4
Here's what you need...
1 head organic cauliflower
1 Tablespoon coconut oil
Salt and pepper
Wash cauliflower, discard the leaves, and chop into small pieces. Grate the pieces with a food processor.
In a large skillet heat the coconut oil over medium. Add the shredded cauliflower. Sauté for about 5 minutes, until tender. Season with salt and pepper. Serve as you would traditional rice.
Nutritional Analysis: One serving equals: 66 calories, 3g fat, 87mg sodium, 7g carbohydrate, 4g fiber, and 3g protein
Motivate your friends, family and co-workers! 
Call me: 269-967-6300, email:info@fitnessprosbattlecreek.com, or go to BioHackers Wellness Academy to get your Fitness ON - in-person or online!!!!
AND check out, like, subscribe to my youtube show:
Feed