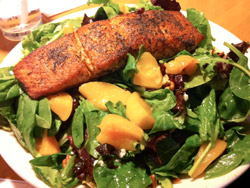 03/23/2023 by Troy Huggett, M.S. 0 Comments
Grilled Salmon and Peach Salad
A Flat Belly Delicious Dish just for YOU!
This recipe makes a perfect flat-abs meal. Fresh greens, grilled peaches and tender salmon make a mouthwatering combination. Enjoy for lunch or dinner.
Servings: 1
Here's what you need:
2 cups mixed greens
1/4 cup grilled peaches
1 Tablespoon blue cheese crumbles
1 Tablespoon dried cranberries
1 Tablespoon light salad dressing
7 oz grilled salmon
Toss the greens, peaches, blue cheese, and cranberries in a bowl with salad dressing.
Top with grilled salmon.
Nutritional Analysis:? One serving equals: 365.3 calories, 14.5g fat, 404mg sodium, 15g carbohydrate, 2g fiber, and 39.7g protein. 
ENJOY - While you flatten the tummy!
Get Strong - Stay Fit!

Troy 
269-967-6300
info@fitnessprosbattlecreek.com
https://www.fitnessprosbattlecreek.com
Feed