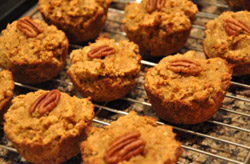 04/19/2023 by Troy Huggett, M.S. 0 Comments
Low Carb Pumpkin Muffins
YUM - Take advantage of this recipe and be careful not to overindulge! 
Here's a muffin that isn't sugary, starchy and devoid of nutrients – like the muffins at your favorite coffee shop. These muffins are rich in beta-carotene and contain half an egg's worth of high quality protein. The delicately sweet flavor will satisfy and have you coming back for more.
Servings: 12
Here's what you need...
1/2 cup coconut flour (find at natural foods store)
2 teaspoons ground cinnamon
1/2 teaspoon ground nutmeg
1/4 teaspoon ground cloves
1/2 teaspoon baking soda
1/2 teaspoon salt
1/2 cup canned pureed pumpkin
6 eggs, beaten
3 Tablespoon coconut oil, melted
1/3 cup honey
1 teaspoon vanilla extract
12 pecans for topping
Preheat oven to 400 degrees F. Oil muffin pans.
In a medium bowl, combine the coconut flour, spices, baking soda and salt.
In another bowl, place the pumpkin puree then add the eggs one at a time, mixing well after each addition.
Add melted coconut, honey and vanilla and mix until well combined.
Add the flour mixture to the pumpkin mixture, blend with a whisk until most lumps have disappeared.
Spoon into prepared muffin pan, filling each muffin 2/3 full. Bake for 18-20 minutes or until golden.
Place on wire rack to cool.
Nutritional Analysis: One serving equals: 127 calories, 7g fat, 230mg sodium, 11.7g carbohydrate, 3g fiber, and 5g protein
Get Strong - Stay Fit!

Troy 
269-967-6300
info@fitnessprosbattlecreek.com
https://www.fitnessprosbattlecreek.com
Feed