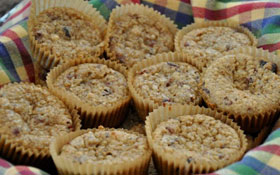 02/06/2023 by Troy Huggett, M.S. 0 Comments
Cranberry Quinoa Mini Muffins
MMMMM - these are delicious - Give them a try, you won't be disappointed! 
Here is a muffin that is truly packed with fiber. Whole wheat flour and wholesome cooked quinoa combine with almonds and cranberries for a moist and delicious treat. Cooked quinoa can be used in place of some of the flour in almost any recipe to increase protein and fiber.
Servings: 36
Here's what you need:
1 cup unsweetened rice milk
1 Tablespoon ground flaxseeds
1/4 cup safflower oil
1/3 cup pure maple syrup
1/2 teaspoon vanilla extract
1/4 teaspoon almond extract
zest from 1 small lemon
1 cup whole wheat flour
1/2 cup ground almonds
1 1/2 teaspoons baking powder
1/2 teaspoon freshly ground sea salt
1/2 teaspoon freshly ground cinnamon
1/2 teaspoon ground cardamom
1 1/4 cups cooked quinoa
1/3 cup finely chopped dried cranberries
1/4 cup organic turbinado raw cane sugar
Preheat oven to 370 degrees F. Place 12 muffins liners in muffin pan and set aside.
In a medium sized bowl combine the rice milk, flaxseed, oil, maple syrup, vanilla, almond and lemon zest.
In a separate bowl combine the flour, ground almond, baking powder, salt, cinnamon and cardamom. Mix the dry ingredients with the wet ones and fold in the cooked quinoa and chopped cranberries.
Use an ice cream scooper to fill each muffin liner 3/4 full. Sprinkle the turbinado raw cane sugar on top of each muffin.
Bake for 30 minutes or until golden.
Nutritional Analysis: One serving equals: 55 calories, 2.5g fat, 8g carbohydrate, 1g fiber, and 1g protei
Get Strong - Stay Fit!

Troy 
269-967-6300
info@fitnessprosbattlecreek.com
https://www.fitnessprosbattlecreek.com
Feed