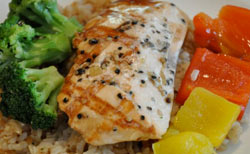 01/11/2023 by Troy Huggett, M.S. 0 Comments
Easy Teriyaki Salmon
Delicous recipe for Teriyaki Salmon - Yum! 
Salmon is filled with healthy omega 3 essential fatty acids, protein, and vitamin B12. This recipe is quick and tastes amazing. Serve it with a side of brown rice and steamed veggies.
Servings: 4
Here's what you need:
1 Tablespoon sesame oil
1/4 cup lemon juice
1/4 cup soy sauce
1 teaspoon ground mustard
1 teaspoon ground ginger
1/4 teaspoon garlic powder
4 (6oz) salmon steaks
In a large re-sealable plastic bag combine the first six ingredients; mix well.
Set aside 1/2 cup of marinade and refrigerate.
Add salmon to remaining marinade, cover and refrigerate for 1-1/2 hours, turning once. Drain and discard marinade.
Place the salmon on a broiler pan. Broil 3-4 in. from the heat for 5 minutes. Brush with reserved marinade; turn and broil for 5 minutes or until fish flakes easily with a fork. Brush with remaining marinade.
Nutritional Analysis: One serving equals: 392 calories, 19g fat, 2.6g carbohydrate, .2g fiber, and 38g protein

Get Strong - Stay Fit!

Troy 
269-967-6300
info@fitnessprosbattlecreek.com
https://www.fitnessprosbattlecreek.com
Feed