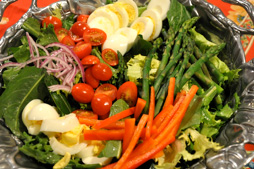 09/15/2023 by Troy Huggett, M.S. 0 Comments
Garden Fresh Salad
Eat healthy and have fun - Great foods, Great for you. Eating doesn't have to be bland or blah 
The best salads are a cornucopia of fresh vegetables, with little or no added fat. This salad combines some of the garden's tastiest veggies and is dressed lightly with no added oils. Serve with a side of lean protein for a healthy, vibrant meal. Servings: 4
Here's what you need...
4 eggs
1 bunch asparagus, ends trimmed
1 cup curly endive
1 cup dandelion greens
1/2 cup cherry tomatoes, halved
1/8 cup red onion, thinly sliced
1/2 red bell pepper, thinly sliced into matchsticks
1 packet Stevia
2 Tablespoons lime juice
1 garlic clove, minced
2 teaspoons Dijon mustard
1 Tablespoon raspberry vinegar

Place the eggs in a pan of water; bring to a simmer for 6 minutes. Remove from heat. Crack the eggs all over, and then place in a pan of cold water for one minute. Remove from water, peel, and slice. Set aside.
Bring a medium pot of salted water to boil.
Add the asparagus and cook for 4 minutes.
Rinse in cold water then set aside.
In a large salad bowl combine the endive, dandelion greens, tomato, onion and pepper.
In a small bowl combine the Stevia, lime juice, garlic, Dijon and vinegar. Mix well.
Coat the salad with the dressing. Top with asparagus and sliced egg.

Nutritional Analysis: One serving equals: 119 calories, 5.5 fat, 137mg sodium, 9g carbohydrates, 2g fiber, and 8g protein.
Call me: 269-967-6300, email: info@fitnessprosbattlecreek.com, or go to BioHackers Wellness Academy to get your Fitness ON - in-person or online!!!!
AND check out, like, subscribe to my youtube show:
Feed