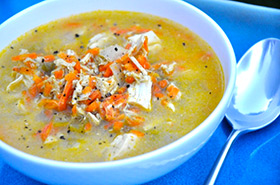 11/14/2023 by Troy Huggett, M.S. 0 Comments
Homemade Chicken Noodle Soup
This chicken soup recipe is made without added carbs like noodles or potatoes. It's filled with fiber, protein and lots of delicious flavor. Enjoy this on a cold winter day. Servings: 8
Here's what you need...
1 Tablespoon coconut oil
1 medium organic yellow onion, chopped
3 carrots, grated
2 celery stalks, finely chopped
1 Tablespoon curry powder
2 garlic cloves, crushed
2 quarts chicken broth
3 cups diced roasted chicken
1 bay leaf
1 organic apple, chopped
dash of salt and pepper
1/2 teaspoon dried thyme
zest from 1 lemon
2 cups unsweetened coconut milk

In a large pot, over medium heat, melt the coconut oil and add the onion, carrots and celery. After 5 minutes add the garlic and curry powder.

After a couple minutes add the chicken broth, chicken, bay leaf, apple, pepper, thyme, and lemon zest. Stir well. Bring to a simmer and cook for 40 minutes.

Stir in the coconut milk, and some salt if desired, remove the bay leaf and serve.
Nutritional Analysis: One serving equals: 166 calories, 5g fat, 175mg sodium, 9g carbohydrate, 2g fiber, and 19g protein
Motivate your friends, family and co-workers! 
Call me: 269-967-6300, email: info@fitnessprosbattlecreek.com, or go to BioHackers Wellness Academy to get your Fitness ON - in-person or online!!!!
AND check out, like, subscribe to my youtube show:
Feed