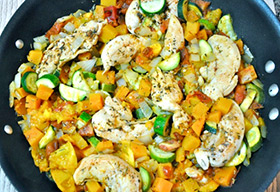 11/17/2023 by Troy Huggett, M.S. 0 Comments
One Pot Chicken and Veggie Dinner
Cooking a healthy dinner at home does not have to be complicated or take lots of time. This simple recipe for chicken tenders and veggies will only take you about 30 minutes from start to finish. Meals that are rich in protein and fiber and low in carbs, like this one, will help you build muscle and stay lean. Servings: 5
Here's what you need:
2 cups butternut squash, cubed
2 Tablespoons coconut oil
1 pound organic chicken breast tenders
1/2 teaspoon salt
1 teaspoon dried basil
1 teaspoon crushed rosemary plus a dash more
1/2 teaspoon sweet paprika plus a dash more
1/2 teaspoon dried thyme plus a dash more
1/4 teaspoon garlic powder
dash of pepper
1/4 teaspoon celery seeds
1/2 teaspoon dried parsley
pinch of ground cumin
3 organic zucchini, cut into half moons
2 large heirloom tomatoes, chopped
1 yellow onion, chopped
4 garlic cloves, minced

In a large skillet heat 1 Tablespoon of coconut oil over medium heat. Add the cubed butternut squash and sauté, covered, for about five minutes, until tender. Transfer the squash to a bowl, then set the skillet back on medium heat.
Add the remaining 1 Tablespoon of coconut oil. Season the chicken with salt and pepper, add to the hot skillet. Sear for about 5 minutes, until browned on all sides.
Turn the heat down to medium-low. Sprinkle with all the seasonings. Add the remaining ingredients and cook, covered, for 15 minutes. Add the butternut squash back into the pot for the remaining 5 minutes.
Nutritional Analysis: 192 calories, 6g fat, 424mg sodium, 14g carbohydrate, 4g fiber, and 20g protein
Motivate your friends, family and co-workers! Use the "refer a friend" link below to forward this newsletter and subscribe your friends.
Call me: 269-967-6300, email:info@fitnessprosbattlecreek.com, or go to BioHackers Wellness Academy to get your Fitness ON - in-person or online!!!!
AND check out, like, subscribe to my youtube show:
Feed