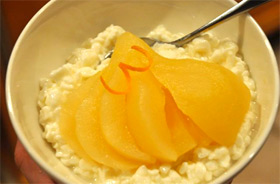 06/29/2023 by Troy Huggett, M.S. 0 Comments
Poached Pears & Cottage Cheese
Poached Pears & Cottage Cheese
Here's a recipe that serves your sweet tooth like a dessert without derailing your results. Poaching pears is a simply, easy process. The pears end up sweet and tender, like canned pears, but without the added sugars. Serving with low fat cottage cheese adds protein and makes this snack filling and nutritious.
Servings: 6
Here's what you need...
4 cups fresh squeezed orange juice
4 cups water
1 (2 inch) piece fresh ginger, peeled
6 whole cloves
1 cinnamon stick
zest from an orange
6 pears
3 cups low fat cottage cheese
Place all ingredients, except pears in a large saucepan over low heat.
Wash, peel and core the pears. Use a small melon baller to scoop out the core from the bottom of the pear.
Place all the pears in the saucepan, making sure that all the pears are fully covered with liquid.
Bring the pot to a simmer for 30 minutes. When the pears are soft, but not mushy, remove from liquid.
Serve each pear over 1/2 cup of cottage cheese.
Nutritional Analysis: One serving equals: 177 calories, 1 fat, 452mg sodium, 28g carbohydrate, 5g fiber, and 15g protein
Get Strong - Stay Fit!

Troy 
269-967-6300
info@fitnessprosbattlecreek.com
https://www.fitnessprosbattlecreek.com
Feed