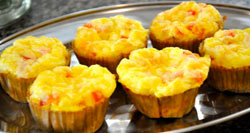 05/02/2023 by Troy Huggett, M.S. 0 Comments
Possibly the Perfect Snack
The Grab & Go snack of choice...... Quick, easy, delicious 
Here is the perfect snack to enjoy guilt-free. Each muffin is packed with protein that will fuel your day and support muscle growth. Make a bunch of these and save them in the fridge for snacks-on-the-go.
Servings: 6
Here's what you need…
6 omega-3, organic, free range eggs
1/2 red bell pepper, finely chopped
1/8 cup of organic shredded cheese
sprinkle of salt and pepper
Preheat oven to 350 degrees F.
Line muffin tins with paper liners or grease lightly.
Mix up the eggs, add bell pepper, cheese and seasonings. Fill 6 muffin tins.
Bake for 20-22 minutes, or until the egg is fully set.
Nutritional Analysis: One muffin equals: 89 calories, 6g fat, 120mg sodium, 1g carbohydrate, .16g fiber, and 7.5g protein. 
Get Strong - Stay Fit!

Troy 
269-967-6300
info@fitnessprosbattlecreek.com
https://www.fitnessprosbattlecreek.com
Feed