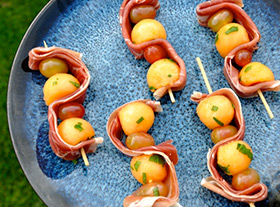 11/04/2023 by Troy Huggett, M.S.. 0 Comments
Prosciutto and Melon Skewers
This is a great snack or appetizer to enjoy this holiday season. It's especially important this time of year to stick with food that is made with real, wholesome ingredients. Servings: 12
Here's what you need...
8 fresh mint leaves, minced
dash of salt and pepper
2 teaspoons lime juice
1 teaspoon agave nectar
24 cantaloupe balls
24 red grapes
12 slices prosciutto
In a medium bowl combine the minced mint, salt and pepper, lime juice and agave nectar.
Add the melon balls and toss to coat. Place in the fridge for 15 minutes.
Fold each slice of prosciutto twice, so that the width gets smaller. Push the prosciutto onto a skewer, add a melon ball and a grape, then fold the prosciutto over and repeat with another melon and another grape. Repeat with the remaining ingredients.
Nutritional Analysis: One serving equals: 42 calories, 2g fat, 152mg sodium, 3g carbohydrate, 0g fiber, and 3g protein
Motivate your friends, family and co-workers! 
Call me:269-967-6300, email: info@fitnessprosbattlecreek.com, or go to BioHackers Wellness Academy to get your Fitness ON - in-person or online!!!!
AND check out, like, subscribe to my youtube show:
Feed