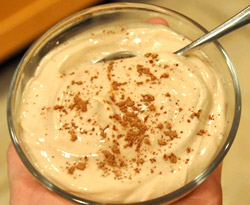 05/10/2023 by Troy Huggett, M.S. 0 Comments
Protein Powered Pudding
Protein Pudding - yum....
Here is a protein packed snack that the whole family will love. It's important to enjoy snacks that are low in carbohydrates and sugar, and high in protein in order to shed body fat and develop healthy muscles. This recipe delivers on all fronts, without sacrificing flavor.
Servings: 1
Here's what you need...
6 oz Greek Yogurt, plain, fat free
1 scoop high quality chocolate protein powder
Sprinkle of unsweetened cocoa powder
In a small bowl use a whisk to combine the yogurt and protein powder.
Mix until all lumps have disappeared.
Garnish with a sprinkle of unsweetened cocoa powder.
Nutritional Analysis: One serving equals: 220 calories, 0g fat, 445mg sodium, 11g carbohydrate, 0g fiber, and 42g protei
Get Strong - Stay Fit!

Troy 
269-967-6300
info@fitnessprosbattlecreek.com
https://www.fitnessprosbattlecreek.com
Feed