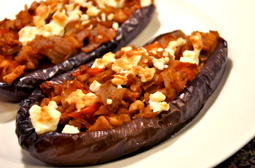 09/18/2023 by Troy Huggett, M.S. 0 Comments
Roasted & Stuffed Eggplant
Great food, fast, delicous, filling and healthy
Roasted veggies are low in calories and high in fiber, making them the perfect diet food. This dish will fill you up without adding too many calories to your daily tally. Add a side of lean protein for a complete meal.
Servings: 6
Here's what you need...
3 medium eggplants
1 teaspoon olive oil
2 medium onions, diced
2 cups cherry tomatoes, halved
1/4 cup walnuts, chopped
2 teaspoons ground cinnamon
2 teaspoons dried oregano
1/4 cup reduced-fat feta cheese

Cut the eggplants in half, lengthwise, and scoop out the flesh, leaving 1/2 inch on the shell. Chop the scooped-out flesh into 1/2 inch cubes and set in a colander. Sprinkle the eggplant cubes and the inside of the eggplant shells with salt. Let stand for 30 minutes, then rinse and pat dry.

Bring a large pot of salted water to boil. Drop the eggplant shells in the water and simmer for 7 minutes. Shells should be barely tender when poked with a fork. Drain and pat dry.

Heat the olive oil in a large skillet over medium heat. Saute the onions for 5 minutes. Add the chopped eggplant, tomatoes, walnuts, cinnamon, oregano and 1/4 cup filtered water. Cook for 8 minutes, until softened and browned.

Preheat oven to broil. Place eggplant shells on a greased baking sheet. Broil for 5 minutes. Reduce oven heat to 375 degrees F.

Fill each eggplant shell with the veggies, sprinkle with the feta. Bake for 35 minutes, or until browned on top.

Nutritional Analysis: One serving equals: 153 calories, 4.7g fat, 86mg sodium, 25g carbohydrate, 11g fiber, and 6g protein.
Call me: 269-967-6300, email: info@fitnessprosbattlecreek.com, or go to BioHackers Wellness Academy to get your Fitness ON - in-person or online!!!!
AND check out, like, subscribe to my youtube show:
Feed