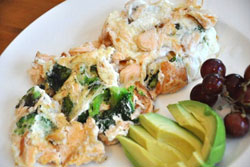 03/30/2023 by Troy Huggett, M.S. 0 Comments
Salmon and Broccoli Scramble
You will LOVE this one :) Enjoy.....
Salmon, broccoli and egg whites combine for the perfect protein-packed breakfast. Add a side of avocado for healthy fats and a serving of fruit for a delicious start to your day.
Servings: 2
Here's what you need...
1 teaspoon olive oil
1 cup fresh broccoli, cut into small pieces
5 egg whites
8oz grilled or smoked salmon, separated into small pieces
dash of salt and pepper
Nutritional Analysis: One serving equals: 225 calories, 7g fat, 557mg sodium, 6.5g carbohydrate, 1g fiber, and 33g protein
Get Strong - Stay Fit!

Troy 
269-967-6300
info@fitnessprosbattlecreek.com
https://www.fitnessprosbattlecreek.com
Feed