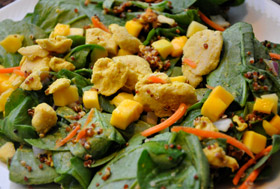 03/20/2023 by Troy Huggett, M.S. 0 Comments
Spinach, Mango, and Red Quinoa Salad (with Chicken)
Dig in and get your health on track, while you enjoy this fun recipe! 
Crisp baby spinach blends with sweet mango, tender chicken and a sprinkle of red quinoa in this refreshing salad. Complete with your veggies, protein and wholegrain, this salad is a balance meal in and of itself.
Servings: 2
Here's what you need...
2 cups baby spinach
1 small carrot, shredded
2 Tablespoons red onion, minced
1/4 cup red quinoa, cooked
1/4 cup ripe mango, diced
1 cup cooked chicken breast, diced
2 Tablespoons lowfat salad dressing (Newman's Own Low Fat Sesame Ginger Dressing)
Place the spinach, carrot, onion, quinoa, mango, and chicken in a medium bowl.
Toss with dressing.
Nutritional Analysis: One serving equals: 248 calories, 4.7g fat, 301mg sodium, 25.5g carbohydrate, 3.4g fiber, and 25.5g protein

Get Strong - Stay Fit!

Troy 
269-967-6300
info@fitnessprosbattlecreek.com
https://www.fitnessprosbattlecreek.com
Feed