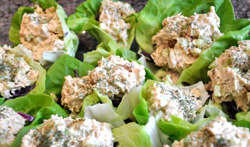 04/17/2023 by Troy Huggett, M.S. 0 Comments
Tasty Tuna Lettuce Wraps
TUNA Anyone??? Give this Lettuce Wrap recipe a try and enjoy it :) 
Who needs bread weighing them down? These tasty tuna lettuce wraps are so much better than a traditional tuna sandwich, and will leave you feeling light and lean. Use wild-caught Albacore Tuna packed in water.
Servings: 2
Here's what you need...
1 (5oz) can Albacore Tuna, packed in water
3 celery stalks, diced
1 Tablespoon relish
2 Tablespoons light mayonnaise
2 teaspoons mustard
2 teaspoons dried dill weed, plus more for garnish
dash of freshly ground pepper
1/2 cup purple cabbage, shredded
4-6 butterhead lettuce leaves, washed
In a medium bowl, flake the drained tuna with fork.
Add celery, relish, mayo, mustard, dill and pepper. Mix well.
Place lettuce leaves on plates, evenly divide cabbage on the leaves and then fill with tuna mixture.
Sprinkle with dried dill weed.
Nutritional Analysis: One serving equals: 148calories, 7g fat, 434mg sodium, 7g carbohydrate, 2g fiber, and 13g protein

Get Strong - Stay Fit!

Troy 
269-967-6300
info@fitnessprosbattlecreek.com
https://www.fitnessprosbattlecreek.com
Feed