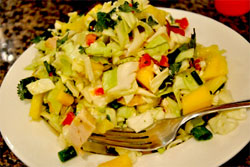 06/26/2023 by Troy Huggett, M.S. 0 Comments
Tropical Chicken Salad
Another Great Dish - From me to you - Enjoy
This salad is the perfect pre or post workout meal. It has plenty of protein and fiber, vitamins, minerals and lots of delicious flavor.
Servings: 8
Here's what you need...
1 head cabbage, chopped
1 red bell pepper, chopped
1 mango, chopped
1/2 cup pineapple, chopped
1 bunch cilantro, chopped
1/3 cup green onions, chopped
4 skinless chicken breast, baked and chopped
1/4 cup low calorie mango dressing
Mix all of the salad ingredients in a large bowl. 
Toss with the dressing.
Nutritional Analysis: One serving equals: 200 calories, 3 fat, 144mg sodium, 14g carbohydrate, 4g fiber, and 30g protein
Get Strong - Stay Fit!
Troy 
269-967-6300
info@fitnessprosbattlecreek.com
https://www.fitnessprosbattlecreek.com
Feed