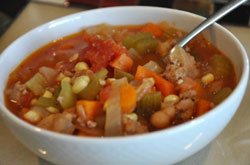 06/20/2023 by Troy Huggett, M.S. 0 Comments
Turkey & Veggie Soup
A great Soup - Enjoy.....
This soup has everything going for it. The base is broth, not cream. It doesn't have any added carbohydrates in the form of rice or noodles. And it's filled with lean ground turkey.
Servings: 12
Here's what you need...
1 teaspoon olive oil
2 garlic cloves, minced
1 bunch of carrots, chopped
2 onions, chopped
1 bunch of celery
1 fennel bulb1.3 lbs lean ground turkey
4 cups veggi broth
1 (14.5oz) can stewed tomatoes
1 (15oz) can white kidney beans, drained and rinsed
4 ears of corn, kernels sliced off
3 Tablespoons tomato paste
2 teaspoons dried basil
dash of salt and freshly ground pepper
In a large skillet heat the olive oil. Add garlic.
Add chopped carrots, cover for 5 minutes.
Add onions, celery and fennel. Sauté until soft.
In another skillet cook the ground turkey over medium heat until fully cooked, stirring often. Drain off excess fat.
Transfer the veggies to large soup pot and add the remaining ingredients, and the cooked turkey. Cover and cook over low heat for 40 minutes. Add extra water as desired.
Nutritional Analysis: One serving equals: 119 calories, 1 fat, 336mg sodium, 10g carbohydrate, 3g fiber, and 15g protein
Get Strong - Stay Fit!

Troy 
269-967-6300
info@fitnessprosbattlecreek.com
https://www.fitnessprosbattlecreek.com
Feed