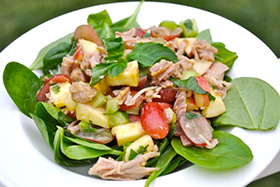 11/11/2023 by Troy Huggett, M.S. 0 Comments
Turkey, Mint and Spinach Salad
Fresh orange juice, mint, apple and grapes make this turkey salad something special. This recipe is perfect to use leftover roasted turkey from your holiday meal, or even leftover chicken. Be sure to use organic ingredients to get the most flavor and nutrients. Servings: 4
Here's what you need:
2 cups shredded roasted turkey
1 organic apple, chopped
2 organic celery stalks, chopped
1/4 cup fresh mint leaves, finely chopped
1 cup organic, red grapes, halved
4 cups baby spinach
Dressing
1/4 cup olive oil
1/4 cup fresh squeezed orange juice
1 Tablespoon orange zest
Stevia to taste
1 Tablespoon Dijon mustard
dash of salt and pepper
In a small bowl whisk the olive oil, orange juice, orange zest, stevia, Dijon, salt and pepper.
In a medium bowl combine the turkey, apple, celery, mint and grapes. Toss with the dressing.
Prepare each plate with a pile of spinach. Top with the turkey salad mixture.
Nutritional Analysis: One serving equals: 289 calories, 15g fat, 795mg sodium, 13g carbohydrate, 2g fiber, and 25g protein
Motivate your friends, family and co-workers!
Call me: 269-967-6300, email: info@fitnessprosbattlecreek.com, or go to BioHackers Wellness Academy to get your Fitness ON - in-person or online!!!!
AND check out, like, subscribe to my youtube show:
Feed