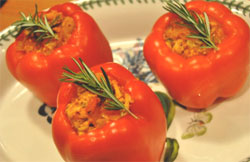 06/14/2023 by Troy Huggett, M.S. 0 Comments
Turkey Stuffed Bell Pepper!
Eating healthy doesn't have to be boring! These turkey-stuffed bell peppers are the perfect meal for those days when you're bored of eating healthy. Shhhh, your taste buds won't suspect that this dish is low-carb and protein-filled. Serve over a bed of greens for a complete meal.
Servings: 5
Here's what you need...
5 organic bell peppers
1 teaspoon olive oil
2 cloves garlic, minced
2 Tablespoons fresh basil, minced
1 yellow onion, minced
1 Tablespoon fresh rosemary, minced
1 teaspoon dried parsley
dash of salt and pepper
20 oz organic ground turkey, 99% fat free
1 organic tomato, chopped
3/4 cup spaghetti sauce
1/4 cup shredded mozzarella cheese
Bring a large pot of water to boil, add a pinch of salt. Cut the tops off the bell peppers and remove the seeds. Place in the boiling water, using a spoon to keep them submerged for 3 minutes or until the skin is slightly softened. Drain and set aside.
Preheat the oven to 350 degrees F. Prepare a baking pan with non-stick cooking spray and set aside.
In a large skillet heat the oil on medium. Add the garlic, basil, onion, rosemary, parsley, salt and pepper.
Cook for about 5 minutes, until the onions begin to soften. Add the ground turkey and continue to heat until the meat is browned. Add the tomato and cook for another 2 minutes.
Remove from heat. Pour the spaghetti sauce into the turkey mixture and mix well. Add the cheese and mix until well combined.
Stuff each prepared bell pepper with the turkey mixture and place on prepared baking sheet. Cook for 15-20 minutes until the bell peppers are tender.
Nutritional Analysis: One serving equals: 193 calories, 3 fat, 256mg sodium, 14g carbohydrate, 3g fiber, and 28g protein
Get Strong - Stay Fit!

Troy 
269-967-6300
info@fitnessprosbattlecreek.com
https://www.fitnessprosbattlecreek.com
Feed